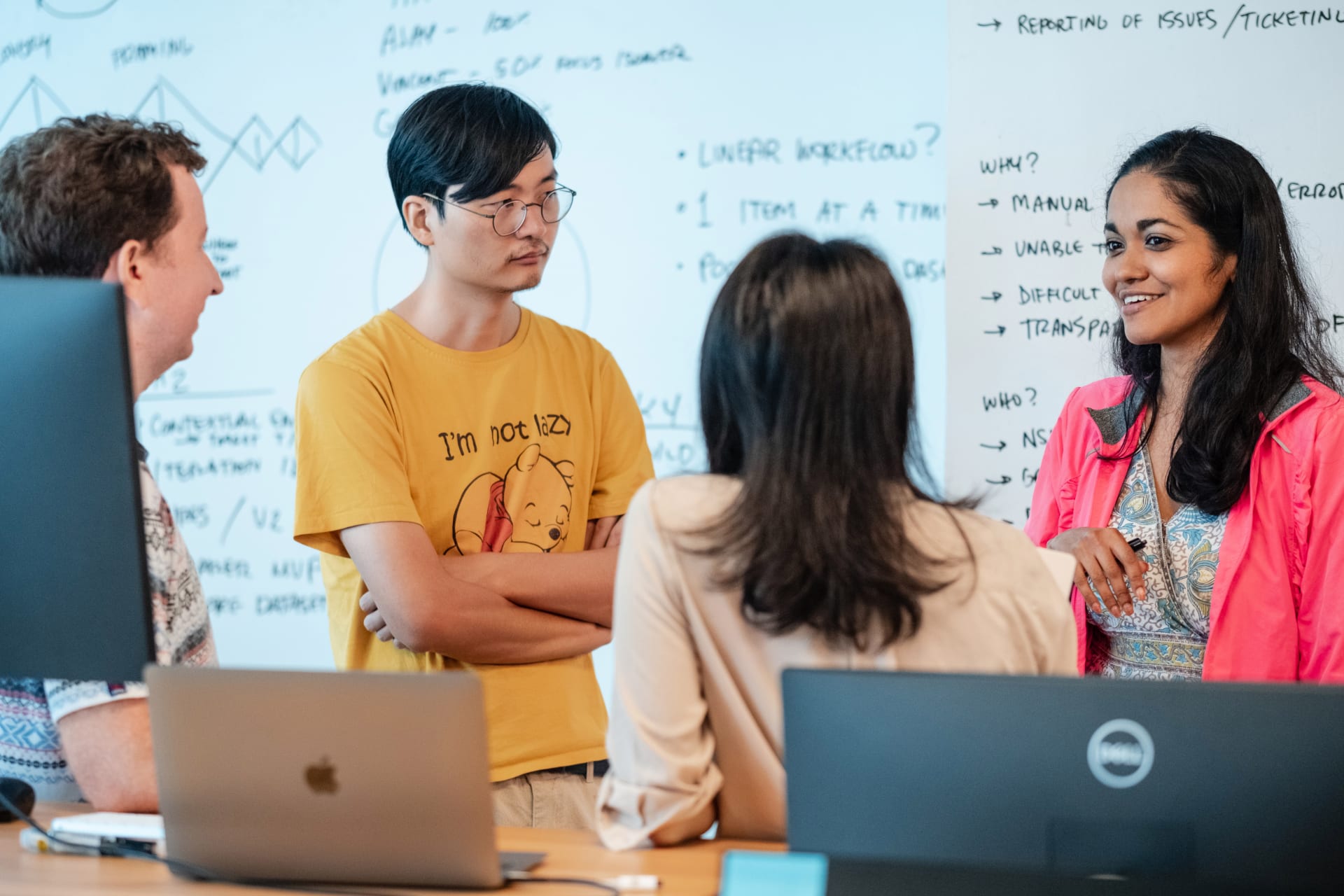 HR Business Partner, People Team
Singapore

,

Central Singapore

,

Singapore

Corporate
Job description
About Us
We build high-performing teams, functions, and organisations in the government to make an impact on public good. We work with function and team leads to hire, motivate, develop, and retain the right people + organise and develop well-functioning teams. We iterate at our polices and processes to keep them fit-for-purpose to make OGP's mission happen.
Open Government Products is a startup team on a mission to build a better world. We solve real problems for the common good - our products have prevented scams, saved lives, and distributed millions of dollars to the aged and vulnerable. We keep a flat hierarchy and value high initiative and autonomy, with over 70% of our products starting as ground-up initiatives. We open source most of our work so that other countries and communities can benefit from it.
Projects we have worked on include:

Covid-19 Vaccination National Appointment System - A suite of systems built to enable Singapore's national vaccination campaign for Covid-19. This includes informational sites, appointment booking systems, and records management systems.
Data.gov.sg - An open repository of all the Singapore Government's public data. It helps people understand the data using visualizations and articles, and provides real-time APIs for developers to use.
Parking.sg - A mobile app alternative to parking coupons. It lets users pay, extend, and refund their parking sessions just using their phones.
FormSG - A form builder tool for agencies to self-service and create online forms that capture classified data, with the goal of replacing paper forms.
Isomer - Isomer provides government agencies with an easy-to-deploy static website building and hosting service to create usable, secure and faster informational websites quickly.
RedeemSG - RedeemSG helps the Singapore Government to create, send and track redemptions of digital vouchers easily.
PaySG - PaySG was developed to enable digital payments for government services, and was initially used for payments for COVID-19 swab tests and Stay-Home Notices for incoming travellers to Singapore.
An overview of other OGP products can be found on our website.
What you will do:
The mission of the People Team is to build high-performing teams in OGP to make an impact on public good. We hire, motivate, and develop good people. We organise them to function well in teams. We work closely with organisation leaders to make this happen. We iterate and experiment on our policies and mechanisms to keep making OGP better.
Your role as a People Team member will be to make this happen by being a Business Partner to teams. This means working with team leads to run hiring pipelines, craft people policies, diagnose team health and plan team interventions, tackle organisation design & development matters, and optimise operations.
For this role specifically, you will bring expertise in organisation development and team health to uplift people practices for OGP. You will work closely with the leaders of OGP to build high-performing teams using the full range of People levers (e.g. hiring, performance management, learning & development). To enable you to play this role effectively, you will work closely with other People team members to tap on their expertise across different domains.
Through doing this, you will play a key role in helping to build a high-performing organisation within OGP. In the longer term, you will also help the Singapore Government as a whole improve on how to build and scale tech teams/organisations. The public good impact you'll make is not just nationally, but also internationally as we build Singapore to serve as an international model for a modern digital government.
You will report directly to the Head of People. This role is an individual contributor position.
Concretely on the day-to-day, you will:
Be a Business Partner to team leads in OGP to help them grow and lead their product organisations.
Bring domain knowledge on team health, organisation design, and learning & development to uplift People team practices and build a higher-performing OGP.
Collect and analyse team health data to plan and facilitate interventions to improve team & organisation performance.
Identify & unblock bottlenecks in People practices and processes
Run recruitment pipelines and HR operations for the teams you support.
What it's like working here
Working on what matters - We care about making an impact on public good. For the People Team, this means enabling people and teams to amplify their impact on public good. You will be able to see the direct impact of your work on things that matter.
Rapid Prototyping - Instead of spending too much time debating ideas we prefer testing them. This identifies potential problems quickly, and more importantly, conveys what is possible to others easily.
Growth Mindset - We focus on makings better than they are today. This means that we are constantly working on new things and new areas, and reinventing the areas we are already 'good' at to get better. Working here means having a growth mindset as opposed to a fix one, and leaning forward to try things, make mistakes, and learn.
Ownership - We don't run by only having task or process responsibility, but by owning outcomes. This means acting like an owner of the outcomes of your work, and doing whatever it takes to get those outcomes happen, even if they don't lie strictly within your 'defined' responsibilities.
This role is based in Singapore, and hybrid working arrangements are supported. Also, we're Great Place to Work™ certified!
Job requirements
Who we are looking for:
We are looking for people who care deeply about building better people practices and organisations for public good. They are able to deal with ambiguity and proactively do what it takes to problem-solve and make impact happen. They work well with stakeholders and in teams. They bias toward action, use data to track impact, and experiment with discipline toward maximising said impact. We are looking for someone who:
Has demonstrated expertise in organisation design, organisation development, and team health.
Has had at least 5 years of experience in relevant HR fields, such as HR business partnering, organisation design, organisation development, talent development.
Desires to make an impact through building high-performing organisations for public good.
Thrives in working like an entrepreneur in open-ended problem solving and ambiguity. This means being proactive in scoping problems, doing whatever it takes to solve them, and working hard on different approaches to find what works best.
Works well to build trust with stakeholders to problem-solve and collaborate together.
Experience in other people areas (e.g. hiring, people operations, compensation and benefits, learning and development) is a plus, but is not a requirement.