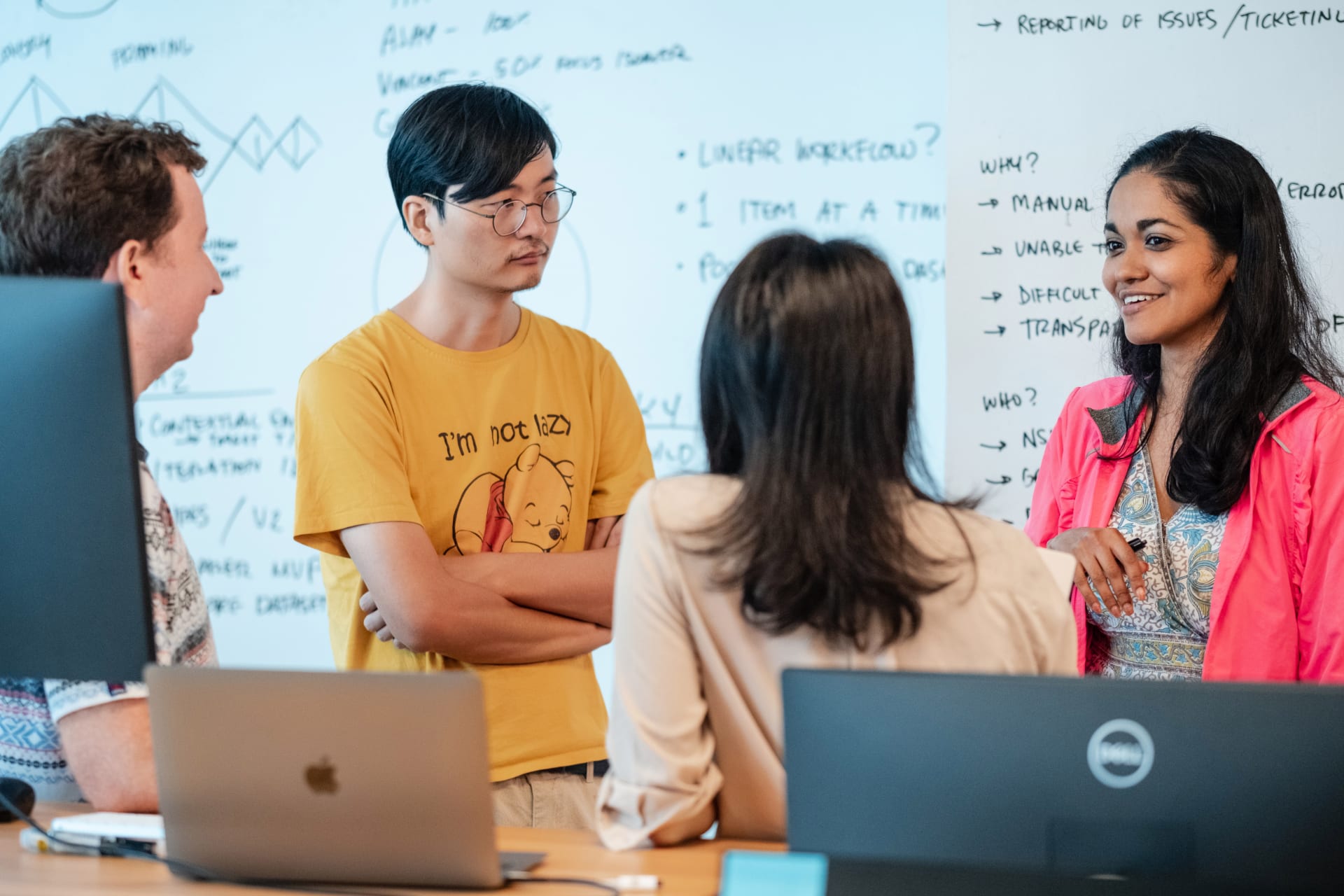 Product Design Manager
Singapore

,

Central Singapore

,

Singapore

Product Design
Job description
Who we are
Open Government Products is an experimental tech start-up team within the government that builds technology for public good. We proactively identify areas where technology can help, test our prototypes with actual users, and bring our best ones to launch.
In the pursuit of innovation, we move quickly, take risks and fail fast if we must - scaling what works in order to deliver maximum value to the public. By keeping our citizen users at the heart of all our products, we focus on solving real problems through good governance. This means actively pushing for transparency across the government, modernising and streamlining traditional processes, and bypassing bureaucracy if needed.
We work in small cross-functional product teams, usually with 5 - 8 members consisting of product designers, engineers, product managers, and data analysts. To maximise ownership and team collaboration, we believe in keeping a flat hierarchy for faster decision-making.
You will work on meaningful projects that solve problems pertinent to our society, from transportation, to education, to healthcare. The public sector is full of opportunities where even the simplest software can have a big impact on people's lives. You will have direct ownership of your work with over 70% of our projects starting as ground up initiatives. Rather than working on commercial ventures commonly found in the startup scene, we're here to improve how we live as a society through what we can offer as a government. Projects we have worked on include:
COVID-19 Crisis Management – Developing digital tools to manage the spread of the pandemic, including the nationwide registration and booking of vaccination appointments. prioritising at-risk individuals, and designing for inclusivity.
Scamshield – An app that automatically filters scam messages from unknown contacts by running it through ScamShield's on-device classifier and filter calls from numbers used in illegal activities. Users can also report scammers that may have slipped through.
Data.gov.sg – An open repository of all the Singapore Government's public data. It helps people understand the data using visualizations and articles, and provides real-time APIs for developers to use.
Parking.sg – A mobile app alternative to parking coupons. It lets users pay, extend, and refund their parking sessions just using their phones.
FormSG – A form builder tool for agencies to self-service and create online forms that capture classified data, with the goal of replacing paper forms.
Isomer – Isomer provides government agencies with an easy-to-deploy static website building and hosting service to create usable, secure and faster informational websites quickly.
PaySG – PaySG was developed to enable digital payments for government services, and was initially used for payments for COVID-19 swab tests and Stay-Home Notices for incoming travellers to Singapore.
An overview of all our other products can be found on our website.




What does a Product Design Manager do?
We aim to improve the way that people interact with the government. Getting subtle details right makes all the difference between an intuitive experience and a frustrating one. As we launch new products and grow our design practice, we want to ensure we are building services that are not just functional, but also delightful to use.
As a Product Design Manager, you will manage, lead, and mentor OGP's design team. You will be responsible for ensuring that the design team is well supported with all the resources that can help them do their work well. 
Concretely, this means:
Providing direction, mentorship and guidance to the design team, tapping on your deep experiences in product design to ensure a high quality of work across the team.

Being responsible for designers' overall performance and health, charting career development frameworks, skill development pathways, and performance evaluation assessments.

Setting up design workflows, processes, and toolkits to help the design team grow in the design practice and to optimize their day-to-day workflows — maximising collaboration and reducing duplicated work.
Working closely with the Director of OGP and cross-functional Leads, developing product strategy, roadmaps, managing priorities across the OGP suite of products, and ensuring resources are allocated well.

Cultivating a design culture and thought leadership within the team where designers are empowered and inspired to do their best work.

Being a strong advocate for design, establishing best practices for OGP, with the broader aim of eventually influencing the wider government.

Help evangelise OGP's design practices to the public and the tech industry through articles and talks, so that we can attract good talent.

Recruiting the best design talent to complement the growing team


What it is like working here
Rapid Prototyping. Instead of spending too much time debating ideas, we prefer testing them. This identifies potential problems quickly, and more importantly, conveys what is possible to others easily.
Ownership. In addition to technical responsibilities, this means having opinions on what is being done and having ideas on what should be done next. Building something that you believe in is the best way to build something good. We try to encourage individuals to work on projects that genuinely interest them.
Continuous Learning. Working on new ideas often means not fully understanding what you are working on. Fridays are set aside for you to take time to learn new architectures, frameworks, technologies, and any other skills that may be useful to your work.
Open communication. As an organisation, we are continuously growing and trying to improve the way we work. We maintain a culture where everyone's voice can be heard. We regularly review our policies so that we can create a healthy and inclusive working environment for individuals of all backgrounds.
Job requirements
Who we are looking for:
10+ years of experience in digital product design and design management. Prior work and personal projects matter more than specific degrees.


Deep understanding and expertise of what it takes to create great products, with a wide breadth of knowledge and experience in UX and UI methodologies.


Have a great visual design sense and an eye for detail - You should have a portfolio that showcases your prior work and be able to explain your influence in design direction and strategy.

You should have a strong suite of research techniques at your disposal, knowing how best to use data in design, as well as measuring and tracking design success.


Excellent skills in mentorship. Great communication skills, and ability in teaching design in an easily understandable way.


Close collaboration is essential to the way we work.


We look for individuals who take lots of initiative and are confident in challenging the status quo. We figure out the best way forward, not wait for instructions.


We are public servants, and we serve the public. This at times means ignoring political pressures, and pushing things through for what is best in public interest.
Overall we look for people who have ability, initiative, good communication, and an interest in public good.